ENROLL WITH OUR PREVENTATIVE PERFORMANCE PROGRAM
Breathe the difference now that you are a part of the Comfort Team family. As a member of Team Comfort, you can relax knowing your equipment is being maintained by professionally trained and certified technicians. Some of the benefits of our Preventative Performance Plan include:
► 15% DISCOUNT ON REPAIRS
► ENJOY LOWER UTILITY BILLS
► PRIORITY CUSTOMER SERVICING
► FEWER SERVICE AND REPAIR CALLS
► PREVENTABLE UNIT REPLACEMENTS
► ADD 1 TO 8 YEARS TO EQUIPMENT LIFE
► ENHANCED AIR ENVIRONMENT QUALITY
► PROFESSIONALLY TRAINED & CERTIFIED TECHNICIANS
► 10 YEARS PARTS AND LABOR WARRANTY ON ALL REPAIRS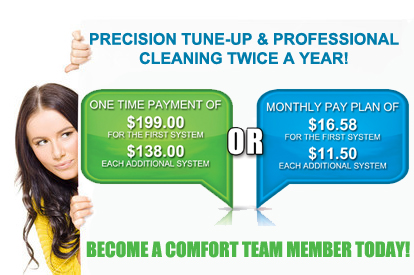 * THE AGREEMENT IS NON-TRANSFERABLE AND DOES NOT INCLUDE ANY PARTS OR MATERIALS EXCEPT MATERIALS (LUBRICATING/CLEANING) NECESSARY TO PERFORM THE REQUIRED MAINTENANCE. ANY REPAIRS BEYOND THOSE PROVIDED IN THIS AGREEMENT WILL BE PRESENTED FOR APPROVAL WITH A FULL DESCRIPTION AND COMPLETE PRICE.
Air Conditioning Checklist
► Lubricate Fan Motor
► Calibrate Thermostat
► Clean Condenser Coil
► Clean Evaporator Coil (If Accessible)
► Adjust Bypass Damper
► Clean Evaporator Drain
► Clean or Replace Filters (Customer Supplied)
► Check Motor Operations
► Evaluate Safety Controls
► Monitor Expansion Valve
► Monitor Refrigerant Level
► Replace Filters and Nozzles
► Check Start/Run Capacitors
► Check Start and Run Relays
► Tighten Electrical Connections
► Measure Temperature Differences
Heating Checklist
► Inspect Valves
► Measure Air Flow
► Test Thermocouple
► Measure Gas Input
► Check Flame Baffle
► Evaluate Duct Work
► Set Manifold Pressure
► Evaluate Vent System
► Set Burner Adjustment
► Blower Wheel Cleaning
► Apply Protective Coating
► Measure Amperage Draw
► Clean and Adjust Burners
► Check Fan Blade Tightness
► Clean Combustion Chamber
► Measure Voltage Differences
Enroll today and start enjoying the benefits of being a Comfort Team member. Simply fill out the form below and we will contact you.
© 2019 AIRE COMFORT SYSTEMS, INC.